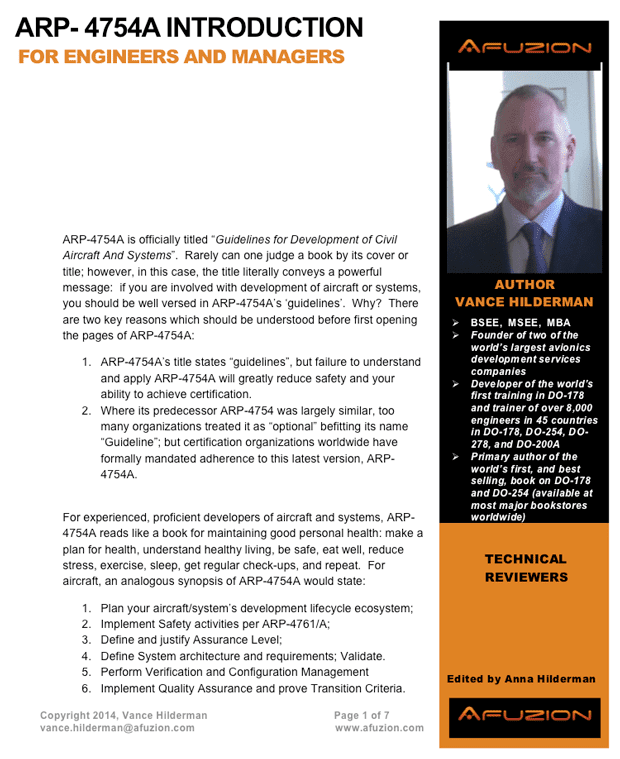 ARP-4754A Introduction – Avionics Systems
ARP-4754A is officially titled "Guidelines for Development of Civil Aircraft And Systems". Rarely can one judge a book by its cover or title; however, in this case, the title literally conveys a powerful message: if you are involved with development of aircraft or systems, you should be well versed in ARP-4754A's 'guidelines'. Why? There are two key reasons which should be understood before first opening the pages of ARP-4754A:
1. ARP-4754A's title states "guidelines", but failure to understand and apply ARP-4754A will greatly reduce safety and your ability to achieve certification.
2. Where its predecessor ARP-4754 was largely similar, too many organizations treated it as "optional" befitting its name "Guideline"; but certification organizations worldwide have formally mandated adherence to this latest version, ARP-4754A.
For experienced, proficient developers of aircraft and systems, ARP-4754A reads like a book for maintaining good personal health: make a plan for health, understand healthy living, be safe, eat well, reduce stress, exercise, sleep, get regular check-ups, and repeat. For aircraft, an analogous synopsis of ARP-4754A would state:
1. Plan your aircraft/system's development lifecycle ecosystem;
2. Implement Safety activities per ARP-4761/A;
3. Define and justify Assurance Level;
4. Define System architecture and requirements; Validate.
5. Perform Verification and Configuration Management
6. Implement Quality Assurance and prove Transition Criteria.
Download Full 5-10 Page Paper