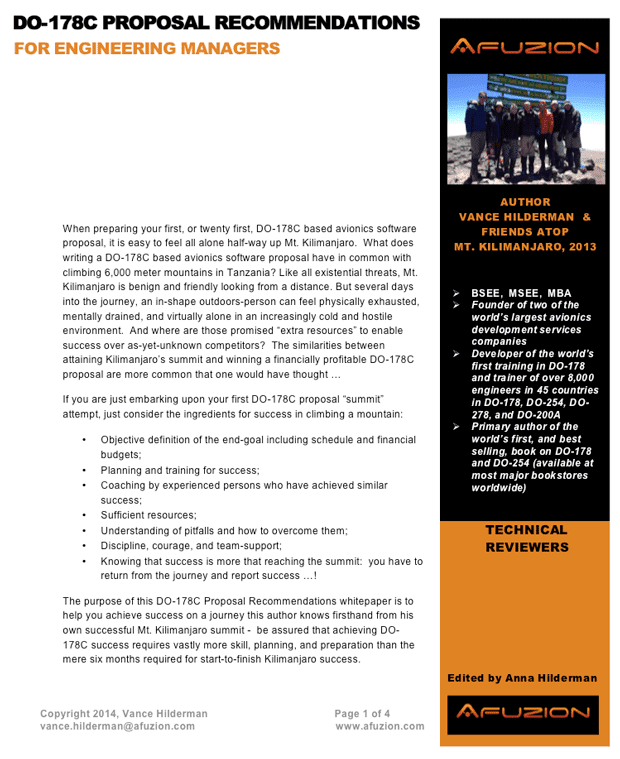 DO-178C Proposal Preparation Recommendations
Avionics software success starts with the DO-178C Proposal. This DO-178C Proposal preparation whitepaper describes the key aspects you should consider when writing or reviewing a DO-178C proposal.  DO-178C Costs, DO-178C Best Practices, and DO-178C schedule estimation are all discussed.
When preparing your first, or twenty first, DO-178C based avionics software proposal, it is easy to feel all alone half-way up Mt. Kiimanjaro. What does writing a DO-178C based avionics software proposal have in common with climbing 6,000 meter mountains in Tanzania? Like all existential threats, Mt. Kilimanjaro is benign and friendly looking from a distance. But several days into the journey, an in-shape outdoors-person can feel physically exhausted, mentally drained, and virtually alone in an increasingly cold and hostile environment. And where are those promised 'extra resources' to enable success over as-yet-unknown competitors? The similarities between attaining Kilimanjaro's summit and winning a financially profitableDO-178C proposal are more common that one would have thought.
Free: Download Remaining 10+ Page Paper Here