DO-160G Introduction for Avionics Testing
Download Full 10+ Page DO-160G Whitepaper
Avionics environmental testing via DO-160G is mandatory for all avionics. DO-160 testing is more than simple "shake and bake".  Learn how to apply DO-160G and perform DO-160G testing cost effectively.
DO-160, "Environmental Conditions and Test Procedures for Airborne Equipment", applies to virtually all commercial avionics systems and many other forms of airborne equipment. In the case of DO-160, the title is quite revealing, as DO-160:
• Pertains to environmental testing, not logic execution or developmental processes
• Provides explicit, independent test criteria which must be attained to achieve equipment certification
• Applies to airborne equipment and expected worst-case environmental conditions which could potentially be encountered during aircraft operations
Essentially, DO-160 mandates tests which prove the equipment will continue to operate as desired in worst-case environmental conditions which could potentially occur in an aircraft. The purpose of which is safety, whereas commercial aspects are not important to DO-160 per se. Some people fondly call DO-160 the "Shake And Bake" test regimen, because early DO-160 testing was based upon subjecting the hardware to extreme vibration and temperature conditions. But DO-160 has always been more than "shake and bake" and the most recent versions introduce many additional forms of testing including pressure, salt, water, RF, magnetism, lightning, and many more environmental conditions.
For our European colleagues, DO-160 is very often cited as required test methods. In Europe, the ABD0100 document (Airbus) serves as the applicable 'design standard'; the ABD0100 makes numerous references to DO-160. It is noteworthy that the ABD0100 does additionally contain design requirements/guidelines, whereas DO-160 is limited to test methods and levels.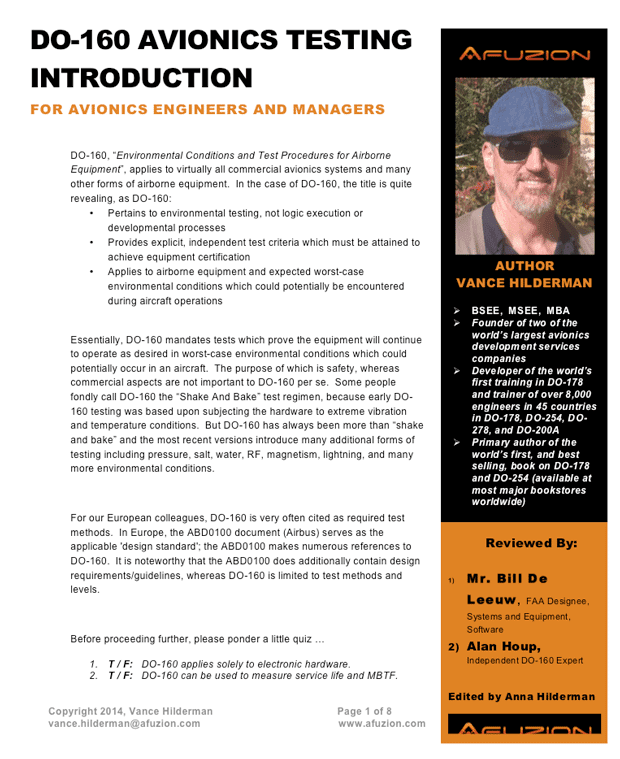 Download Full 10+ Page DO-160G Whitepaper