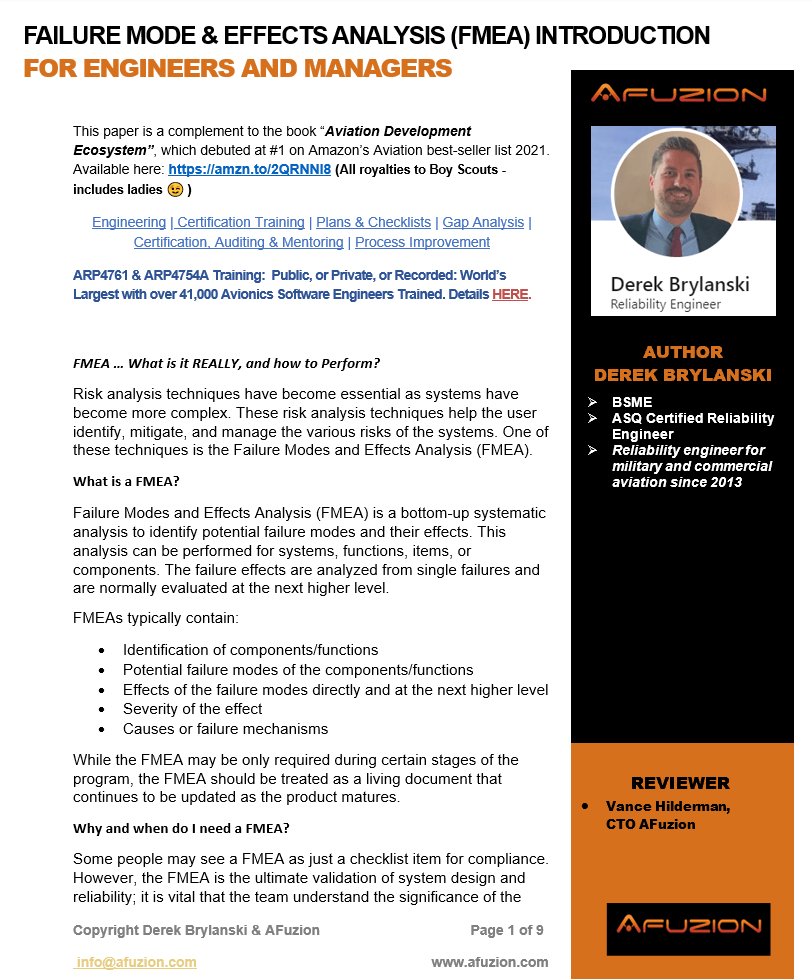 Introduction to FMEA's per ARP4761
Read Excerpt Below, or Click Here To Download Full 10-20 Page Paper
FMEA … What is it REALLY, and how to Perform?
Risk analysis techniques have become essential as systems have become more complex. These risk analysis techniques help the user identify, mitigate, and manage the various risks of the systems. One of these techniques is the Failure Modes and Effects Analysis (FMEA).
What is a FMEA?
Failure Modes and Effects Analysis (FMEA) is a bottom-up systematic analysis to identify potential failure modes and their effects. This analysis can be performed for systems, functions, items, or components. The failure effects are analyzed from single failures and are normally evaluated at the next higher level.
FMEAs typically contain:
Identification of components/functions
Potential failure modes of the components/functions
Effects of the failure modes directly and at the next higher level
Severity of the effect
Causes or failure mechanisms
While the FMEA may be only required during certain stages of the program, the FMEA should be treated as a living document that continues to be updated as the product matures.
Why and when do I need a FMEA?
Some people may see a FMEA as just a checklist item for compliance. However, the FMEA is the ultimate validation of system design and reliability; it is vital that the team understand the significance of the FMEA to understand and manage risk in your avionics hardware. FMEA allows the user to identify all of the potential failures/effects and to be able to
For the remaining 9 pages of this AFuzion FMEA Intro Technical Whitepaper, please download below.
Free: Download Remaining 10+ Page Paper Here