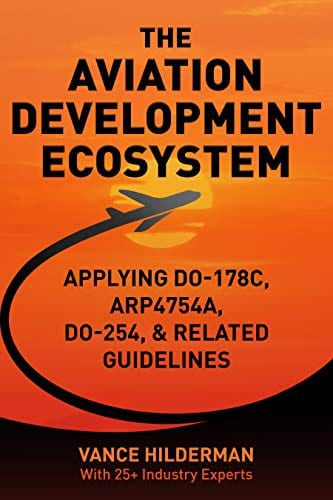 $150 USD | $5.00 Shipping USA | $10.00 Shipping EU & Other
Only available for International Shipping through AFuzion.com
Direct orders receive a personally signed copy, and a special gift from AFuzion
Finally, seven-years in the making, the world's first and only book on the complete Aviation and Avionics Development & Certification Ecosystem for DO-178C, ARP4754A, DO-326A, DO-254, ARP4761A, DO-200B, DO-278A, Military, Civil, eVTOL DO-178C, and the ECOSYSTEM.  The "Unified Field Theory" for aviation and avionics engineers.  As Woodrow Bellamy III states as Editor in Chief, Access Intelligence/Aerospace:
"Vance Hilderman's ability to explain the lifecycle of developing, testing, verifying, validating, and ultimately achieving certification on safety-critical airborne software and hardware systems is evident in his latest work"
And further testament to this book is the Society of Aerospace Engineers (SAE) Maura Callahan, Senior Manager – Global Aerospace:
"Vance Hilderman is considered one of the foremost experts in his field, and is a highly sought-after instructor for DO-178C, DO-254, ARP4754A / ARP4761,  and DO-278ª and DO-200B.  He is an invaluable member of our team at SAE, and he never disappoints. Dynamic, straightforward and with a keen ability to describe complex ideas, Vance is one of the best!"
"Debuted 2021 #1 on Amazon Aviation Books Bestseller List " The Aviation Development System: is available through Amazon in hardcover & Kindle format.
Click here to purchase the hardcover from Amazon.com. Or in Kindle format; Click here to purchase.